****Totally titled this "Residency Addition" before my wonderful mom corrected me- Edition, not addition!  Whoops!  That's what I get for writing this post-call!  Please forgive me 🙂
Phew!  I haven't done a What I Ate Wednesday from Peas and Crayons in ages!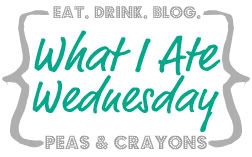 This past weekend I had a night shift, which means I had the entire day off until I went into work at 6pm.  So, in addition to napping throughout the afternoon, I did some solid food prep to get me ready for the week.
Sometimes I feel overwhelmed doing a weekly food prep because I haven't picked out defined "recipes" or I just don't feel like making actual recipes.  While this seems like it would impede a large-batch cooking day, not having any set "recipes" actually makes for great food prep!  I've found that all you need to do is prepare a few different veggies, a few different proteins, and some extra snacks and you are good to go.
Just having prepared foods on hand is already a huge advantage when it comes to eating healthy when you're busy.
For protein this week, I made some tilapia:
I seriously love the plain tilapia filets I buy at Costco.  I know they are probably a terrible choice because they are farmed fish and I've read lots of articles about how dirty tilapia can be… but sometimes I feel so frustrated buying food- nothing is good for you anymore!!!!!  Unless it's wild, organic, sustainable, blah blah blah, it's going to kill you.
So, I accept the dirty tilapia and eat it anyways because 1.) It's delicious 2.) It's a lean protein and 3.) It's convenient.
Most of the time I just pan fry it on the stove with some salt and pepper.
I also bought some beautiful local eggs which are super healthy so they will offset my farmed tilapia right?  I don't think eggs do very well made ahead of time, so I will cook those each day.
For veggies, I already had a salad mix that I divvied up into tupperware.  I also bought some red skin potatoes that looked really tasty at the store.  After boiling them, I smashed them and then pan-fried them on the stove with garlic powder until they were crispy.  I topped them with some pre-made pesto I bought at Trader Joes and….. YUM!
With some peas on the side I had the best dinner of tilapia and potatoes with pesto.  I would highly recommend this simple but flavorful meal!!
For some carbs I tried a new quinoa/rice mix I bought at Costco:
Kyle and I sampled it at the store and both agreed that we would eat it enough to make it worthwhile to keep on hand in the panty.  That was a weird sentence- did you get that?
I actually just added it right into my salad for a little extra carbs and texture.  I really like putting rice or quinoa in salads- have you tried it?
For snacks, I made a few really big protein pancakes.  For the batter I blended up 1 1/2 banana, 3 egg whites, 3 scoops protein powder, less than a tsp coconut flour (I was down to the very very end of my can 🙁 ), cinnamon, 3 TBS oats, and 3 dates.  I threw in a huge handful of blueberries with each pancake:
Being on call is so hard when it comes to eating healthy.  I get so tired throughout the night and so I want more food to stay awake!  My classmates all go to the cafeteria at 2 am and it is so hard to turn down mozzarella sticks!  I haven't bought any yet- but it's a struggle!!
During my neurology rotation, I was able to sleep for at least 4 hours, sometimes closer to 6 hours during the night!  But in the ICU, sleep isn't even an option.  You are busy all night and don't even think about going to sleep.
After I get off in the morning, I feel almost hungover!  It's how you feel after going out with your girlfriends all night, or staying up all night studying.  You know how after an all nighter you just want a big greasy meal?  That's how I feel after being on-call!!!  It's terrible!   I'm still working on the best healthy but satisfying on-call foods.  I can tell you right now that a salad at 3am is not going to cut it.  Maybe soup?  I guess I will just keep you posted!
Have a great Wednesday my friends!!