I haven't done a "What I Ate Wednesday" in way too long!! So, without further ado, here are some of my eats as of late!
If you're new to the WIAW party, you can read all about it here, and you can join the fun yourself!!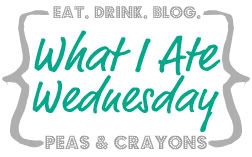 Breakfasts:
With all the scrumptious summer fruit out there right now, my breakfasts have been greek yogurt with berries for the past umpteen days.  I think plain greek yogurt is the perfect, protein-packed backdrop for any fruit.  I sweeten it with a little stevia, often add in some flax seeds, walnuts, or almonds, and stir in tons of fruit, especially berries.
My mom has been picking ever last mulberry off the trees in our town and luckily, I get to eat the literal fruits of her labor 🙂
Mulberries and blueberries, mulberries and strawberries, mulberries and bananas- you can't go wrong with any combo!
Lunch:
I blogged about my healthy chicken nachos a few days ago, and that dish served as my lunch for quite a few days!
Now that all our chicken is gone, I've added in a few other yummy lunches:
Wraps with turkey, feta, hummus, and avocado.
Egg white wraps with hummus on the side:
Dinner:
My healthy lasagna has been the dinner star for the past few days.
But, my dessert this week is so good, I'd be lying if I said I didn't have a huge bowl of it for dinner a few times 😉
Dessert:
Dessert this week is strawberry rhubarb crisp.  I noticed some bright red, beautiful rhubarb at the farmers market last weekend and couldn't resist buying some.
Don't you think rhubarb just tastes like summer?  It has that tangy, sweetness, and kind of makes my tongue feel itchy- I love it!  (Or maybe I'm slightly allergic to it…)  I've made muffins with rhubarb before that were great, but this time I wanted a hot, gooey, juicy strawberry rhubarb crisp.
My last 2 recipes have been healthy, but this one is not.  I don't think there is anything wrong with enjoying a fabulous dessert once in a while.  Especially when it brings as much joy to you as rhubarb in the summer does to me!
Strawberry Rhubarb Crisp
Ingredients:
4 cups strawberries, chopped
4 cups rhubarb, chopped
2/3 cup sugar + 1/2 cup sugar
1 TBS cornstarch
1/2 cup brown sugar
1 cup flour
1 cup rolled oats
1/2 tsp salt
6 TBS butter
Directions:
Wash, cut off stems, and cut strawberries into halves or quarters depending on how big your berries are.  Chop rhubarb into 1/4-1/2 inch slices.  In a large mixing bowl, combine strawberries, rhubarb, and 2/3 cup sugar.  Mix cornstarch with 1 TBS water until cornstarch is dissolved.  Then add to mixing bowl and stir.  Set fruit aside.
In another large bowl combine flour, brown sugar, remaining 1/2 cup white sugar, oats, and salt.  Cut butter into small cubes and add to flour mixture.  At this point, you want the butter to combine with the dry ingredients and form small pebbles or clusters.  You can use a food processor and pulse the butter and flour mixture to do this, or you can use your hands and mix in the butter until pebbles form.
Pour fruit into a large baking dish.  Sprinkle flour mixture on top.
Bake at 350F for 45min-1 hour, until topping is golden brown and fruit is bubbling around the edges.
Top with ice-cream and enjoy!  You will probably want to lick the bowl clean!!
What have you been eating lately??
Here are some previous WIAWs:
Vegan Sloppy Joes <——- Really good!