Well you guys, this is officially going to be the freshest post I have ever posted on A Doctor In The House.
I have two super fresh things for you today.
1.  A Freshwave Giveaway!!
2.  A recipe for the Freshest 3 Bean Salad around
Ready for all this freshness?
Let's start with Freshwave. 
One of my dear friends from college works for this super awesome company called Freshwave.  He introduced me to Freshwave a few years ago and it is now a staple product in my house.  I wrote a post about Freshwave a while back- you can check it out here.  
Freshwave is an all natural cleaning products line that eliminates odors using all non-toxic, environmentally safe ingredients like "Lime, Pine Needles, Aniseed Clove, Cedarwood and Water".  Most of the products I've used have a pine scent and the ingredient list is all natural oils and names you recognize.
I've tried almost all the different products and seriously love them.  The scent is pleasant but not over-powering.  Also, it makes me feel good knowing that I don't have toxic chemicals all over my house.  I use the spray all over my house.  Lately, I've been putting the pearl packs in the bottom of my trashcan and it makes my kitchen smell good!!
Also, there are fancier products that look nice displayed in your bedroom or bathroom.  The Crystal Gel from the Design collection is my favorite 🙂  I have one in my bedroom right now!
Now for the good part:  One reader will win a sample pack
of Freshwave which includes Pearl Packs, Laundry
Detergent, and Room Spray!
You could keep the goods for yourself or give them away as a holiday gift!
To enter:
1.  Leave a comment below telling me how you like to freshen things up 🙂  (YOU MUST DO THIS ONE)
2.  Follow Freshwave on twitter by clicking here. (COMMENT TELLING ME YOU DID FOR AN EXTRA ENTRY)
3.  Tweet, "I want to win a @fresh_wave sample pack from @doctrinthehouse!  You can too!"  (COMMENT TELLING ME YOU DID FOR ANOTHER ENTRY!)
That's 3 possible entries!  I will pick a winner next week and ship the goodies to you!
And now, since it's What I Ate Wednesday, I have to share a fresh recipe I've been enjoying lately!
If you're new to the WIAW party, go check it out over at Jen's blog- Peas and Crayons!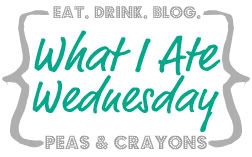 Fresh 3 Bean Salad
Ingredients:
1 can kidney beans
1 can garbanzo beans
1 can pinto beans (great northern beans work too)
1/2 red onion chopped finely
4 stalks celery chopped
1 clove garlic minced
1/3 cup balsamic vinegar
1/4 cup olive oil
1/4 cup chopped fresh parsley
salt and pepper to taste
Directions:  (the colors are so beautiful I'm going to show lots of pictures) 🙂
In a large bowl, whisk olive oil and balsamic.
Add chopped onions.
Add chopped garlic.
Add chopped celery.
Add chopped parsley.
Rinse beans and add.
Salt and pepper to taste.
Stir.
Serve over fresh greens.
There are scientific studies showing that the amount of beans eaten is correlated with a longer lifespan- so eat this salad up!
Don't forget to enter the Freshwave giveaway!!