My life is complete.  I am in Fitness Magazine this month!!
If you happen to see a Fitness Magazine, flip to the back page, and there I am!!
It's probably the coolest thing that's ever happened to me.  How it all happened, was through Fitfluential.  Someone reached out to bloggers about their "aha" moment in fitness.  I wrote about my realization that healthy living wasn't just for me- it was for my patients.  And they picked me!  Crazy.
Now onto some What I Ate Wednesday from the lovely Peas and Crayons.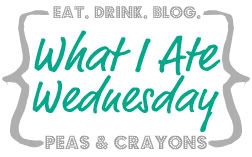 I skipped photographing breakfast because it is always the same- oatmeal with egg whites and blueberries.  This time topped with walnuts.  Just perfection in a bowl 🙂
Snack
Around mid-morning, my stomach was growling so I made a snack of celery, peanut butter, and a microwaved protein muffin.
To make the muffin, I just mix 1 scoop of protein powder with a splash of egg whites and mix.  Then I microwave it for 45 sec and top with PB2.  It's really not all that good…
Workout
I wanted to get my workout in before lunch, so I popped in some P90X and got to work with shoulders and arms.  Holy moly.  I really liked the format of the workout- we did 1 shoulder exercise, 1 bicep exercise, and 1 triceps exercise, repeated 3 times to make 1 circuit.  We did a total of 4 circuits and my arms were jelly after.
But I still felt like I wanted some cardio, so Chalene to the rescue!  I did Turbofire HIIT 15 minutes twice for a total of 30 minutes.
Lunch
On a whim, I bought these low carb wraps.  They have 7g of fiber and only 60 calories per wrap.  They aren't made of the most wholesome ingredients, but aren't terrible either, so I thought I'd give them a go!
I topped my wrap with tuna mixed with mustard, spinach, tomatoes, and avocado.  I loved every bite!
This week I need a little kick in the pants to get motivated, so I wrote my weekly goals up on my white board.  Each day I can cross off what I accomplish.  So far, this little check list is keeping me focused on getting my school work done, getting in good workouts, drinking my water, and eating clean.. and it's working!  Yesterday I finished my gallon of water, had a great workout, and ate well 🙂  Now to get to some of that school work….
Dinner
By 5pm my wrap was fully digested and I was starving again.  I needed to cook up some chicken but it was frozen and I was so hungry I didn't want to wait.  So I went for the eggs for my protein source at dinner.  I added in some spinach, broccoli slaw, and the star ingredient…. feta cheese!  I served the eggs over another wrap (those things are good!!).  The feta cheese was SUCH a great addition.  I haven't had it in a while and so it tasted extra good.
Snack #2
I had a meeting last night at 7 and wanted to grab a quick snack beforehand.  These rice cakes were another impulse/unclean purchase along with my wraps… but they sure are tasty!! I ate them with some blueberries 🙂
Dessert
Can't forget dessert!  I guess those rice cakes didn't fill me up because at 8:30pm I was starving again.  I love having greek yogurt before bed because it is a slow digesting protein, tastes like dessert, and fills you up.  My dad sent me this glorious blueberry jam from Nantucket- I knew it needed to top my greek yogurt!
Mmmmmm. And that was my day!!  Did you have some good eats as well?