It's What I Ate Wednesday!!!  Hop on over to Peas and Crayons to see what everyone else is eating 🙂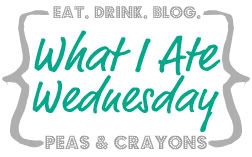 Before I give you an overview of my meals yesterday, I want to post a vlog I did this morning!  It's basically just an update on life in terms of food, fitness, and science- my three favorite things.  Except for Kyle… I like him too.
I also wanted to 'get real' about a possible injury I'm dealing with, food anxiety, workout anxiety, etc.  Sounds fun right!?!
Check it out!
[youtube.com=http://youtu.be/q0PIXuZNphY]
As for what I ate yesterday, here we go!
Breakfast:
A HUGE bowl of greek yogurt and blueberries.  Perfection.
Lunch:
Watermelon and a chicken, quinoa, zucchini bowl.
I made the chicken by just cutting it up and throwing it in a pan.
Then I added some of this glorious sauce:
This is the first time I've actually purchased Tiki Masala.  I've eaten it at restaurants before, but never bought a jar of sauce myself.  Until now.  And I think I will be doing that again and again!  So yum!!
The quinoa is from my favorite box mix- I love this stuff.  It's a mixture of brown rice and quinoa and comes with a spice packet.  What I love most is that you can microwave it.  SO easy!
Dinner:
I didn't get home until late yesterday and I didn't feel like making anything, so I had a "desserty" kind of dinner.  Greek yogurt topped with an unpictured Zing bar.  My mom found these bars in Portland and fell in love so she ordered an entire case.  It's a chocolate coconut bar, kind of like a Larabar.  Pretty good if you ask me!!!
I finished the night with a bowl of blueberries, almond milk, and a few gigantic handful of nuts on top.  🙂
Questions:
Can you relate to my crazy thinking and behaviors on the vlog?  
What did you eat yesterday??