Happy Wednesday!
My neuro-ophthalmology rotation is going just swimmingly.  One thing I love most about neuro is that so many of the patients are complex cases that require you to really think about what they might have.  Each patient is a mystery!  It's kind of like House, but cooler because it's only about the eyes and brain.
I am learning so much each day; it's overwhelming and wonderful.  The attending physician I'm working with is an expert in this field and is known throughout the country for her work in neuro-ophthalmology.  She is retiring in October so I'm trying to soak up all her knowledge before then.  What inspires me so much is how good she is.  She is just a good doctor.
When I think about my career goals and aspirations, sometimes I think I want to be an incredibly successful ophthalmologist, traveling the world to help those in developing countries.  Sometimes I want to be a writer and share my knowledge on health- watch out Dr. Oz!
But at the end of the day, what I want most in my career in medicine is to be good.  I want to be a really good doctor.  I want to excel in my field and take care of patients in an exceptional way.  I want to have a fund of knowledge that exceeds just ophthalmology.  And I want patients to be referred to me because I am good. 
Maybe I should go study now….
Anyway, I was just thinking those things yesterday and today (and talking about them with my attending) so I thought I would put them out there for all the blog world 🙂
Moving on. Let's recap What I Ate Wednesday!  Don't forget to check out Peas and Crayons for more awesome WIAW's!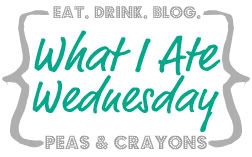 Yesterday's breakfast was a piece of toast with peanut butter and blueberries.
I ate it with a fork and it was scrumptious!
Then it was time for clinic.  I did not work out in the morning which was a big mistake because I didn't get home from clinic until 6:30 and by that time I was starving and to tired to work out.  Whoops!
Lunch was a big bowl full of my green bean, potato, tuna salad and a nectarine on the side.
When I got home, I whipped up a HUGE salad with corn, snap peas, cucumber, carrots, mozzarella, and veggie meatballs.  Kind of random but filling!
Before bed I enjoyed a bowl of chobani coffee yogurt with an oreo crumbled on top.  Now that Kyle is living here I have to get used to his not so healthy food around.  I've actually been pretty good- averaging about 1 oreo a day 😉
Now, I thought this was a pretty healthy day.  Veggies with lunch and dinner, a wholesome breakfast, protein at every meal, and a bed-time dessert within moderation.  But apparently I didn't get near enough protein… and WAY too much fat!  Whoops!  Maybe it wasn't the best WIAW.
Exercise In A Pill?
I want to know what you guys think about this article I just read in the NY Times.
"Two newly published studies investigate the enticing possibility that we might one day be able to gain the benefits of exercise by downing a pill, rather than by actually sweating. But while some of the research holds out promise for an effective workout pill, there remains the question of whether such a move is wise."
Apparently, scientists have discovered a compound that when injected into mice, leads to increased energy expenditure, weight loss, and increased oxygen consumption.  Basically, the chemical mimics what exercise does to your body.
"The more encouraging of the new studies, which appears this week in Nature Medicine, expands on a major study published last year in Nature. In that study, researchers at the Scripps Research Institute in Jupiter, Fla., reported that a compound they had created and injected into obese mice increased activation of a protein called REV-ERB, which is known to partially control animals' circadian rhythms and internal biological clocks. The injected animals lost weight, even on a high-fat diet, and improved their cholesterol profiles"
This finding is significant for a variety of reasons.  First, it could be used for people who are disabled and unable to exercise.  They could get the exercise benefits without having to do anything!  There's also potential use for doping and other bad stuff….
In my opinion, I think this is a terrible idea!  First, (and I haven't read the entire study) I don't think you get the endorphin release that exercise gives you.  Second, the chemical seemed to make the rats less active than they were before.
So if we used it, we would all be a bunch of lazy people, lying around, breathing heavily, and feeling depressed…..
Right?  Maybe I'm wrong.  But I do think this is a slippery slope.  Exercise has SO many benefits beyond muscle growth.  It increases self-worth and self-confidence, betters your mood, is good for mental processes and so much more!
Questions:
What do YOU think?  Exercise in a pill- yay or nay?  
What are YOUR career aspirations?