It's What I Ate Wednesday! Jen the fabulous from Peas and Crayons started this blogger linkup and it is one of my favorites.  Creep on what everyone else ate all day and get new ideas for recipes?  Find new blogs?  Yes please!!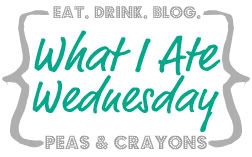 I have 2 full weeks before I start my 4th year and I am determined to enjoy every minute of it.  There are so many things I want to do besides the things I have to do.
Yesterday morning I was up at 6 to get started checking things off the to-do list and having fun.  Bright and early (we're talking 7:20- barely light outside) my new yard mowing guy Juan came over.  Sweet Kyle got someone to mow my lawn for me for the next 2 months.  I actually really enjoy mowing my lawn, but… don't make fun of me…. I can't start the lawnmower by myself.  
It's so weird that I can't start it!! I didn't think I was that weak!  But I can't pull the string fast enough to start the mower.  So I wait until someone is around to start it for me (Kyle, a neighbor, my roommates- who have all moved out now).  Without roommates, I don't have a good lawn-mower starter… so my lawn turns into a jungle before I mow it.
Anyways, I'm babbling… Kyle got me a lawn service and I'm thrilled.  While Juan was mowing away, I planted flowers!  I LOVE gardening and the entire time I was studying for OBGYN I was wishing I could be outside working on my garden.
It wasn't long before I was starving, so I came inside to make breakfast.
I know this doesn't look appetizing, but these oats with protein powder, strawberries, and almond milk were flippin delicious!
The rest of the day was spent running errands and cleaning the house.  I was able to do some cleaning I NEVER do.  I cleaned the baseboards in my kitchen, under my cabinets, the window sills, all the little places you don't clean on a regular basis.  Doesn't cleaning make you feel so good?  I love the feeling after spending an afternoon cleaning.
And then it was lunchtime.  My days go by so fast, I feel like I just go from meal to meal!
I bought this sushi on Monday and ate half of it for dinner, so I had the other half waiting for me for lunch the next day!  That roll was HUGE- I can't imagine eating the entire thing in one meal… well, actually I can.  But I would be really full.  Probably better that I had half for dinner and half for lunch the next day 😉
Workout
Later in the afternoon I drove my booty to the gym and got to work doing a similar workout to yesterday.  I started with 20 minutes on the stairs while watching Dancing With The Stars on my phone.
DON'T TELL ME WHO WINS!!!
Then I did this weighs workout from Jamie Eason's Livefit trainer:
Holy moly- those Smith Machine Military Presses!?!?! OUCH!!!
I finished up with 30 minutes on the elliptical.
Sweaty Mess!!

Calorie Talk
Monday, this workout burned 800 calories, but yesterday only 675??  That's still a lot- I'm not complaining, but I don't know why there was such a discrepancy.  I always look at calories burned with a range in mind, never as an absolute number.  For one thing, everyone forgets that during the time you workout, your body would have normally still burned calories.  So if you workout and burn 600 calories in one hour , that's not 600 extra calories.  If you had just gone about your normal day instead of working out, maybe you would have burned 150 calories in that hour.  So in reality, you only burned 450 calories.  Does that make sense?  If you keep track of calories burned, I recommend using it as a guide rather than an absolute number.  Use it to gauge intensity.  Use it to motivate you to push harder.  Don't use it to calculate how much frozen yogurt you can eat afterward (even though I do that all the time 😉 )
On the way home from the gym I opened a new pack of gym and can I just say, this gum is fantastic.  I don't even like lemon flavored stuff and this tastes SO GOOD!! Try it.
Dinner was salad topped with a veggie burger.  I rolled up 2 slices of turkey with a babybell cheese for some extra protein.
My day ended with greek yogurt, 1/2 scoop protein powder, and 1/2 banana.
But of course I was still hungry, so I had a bowl of almonds and cashews.
And there you have it!!
What did you eat yesterday?  
Do you keep track of calories burned?  
Seriously, cashews are the best nuts.