Happy Wednesday!
It's time for another edition of What I Ate Wednesday (or Tuesday) thanks to the fabulous Jen over at Peas and Crayons.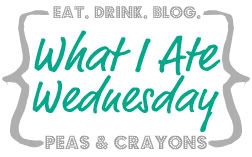 Yesterday morning I was out of bed at 4am yet again.  I was set on studying for a full hour before doing anything else.  So that's what I did!  After studying and sipping on coffee I showered, put on my scrubs, and mosied into the kitchen to make breakfast and pack my lunch.
Breakfast
I always buy too many avocados and then struggle to eat them before they go bad.  Seriously, it's the only thing I buy that I don't eat immediately… I don't know why!  So I knew breakfast needed to contain avocado.  I scrambled up 2 egg whites with broccoli slaw.  Alongside my eggs I had avocado, an orange, and a piece of Ezekiel bread with some sugar free jam (I hate to admit how much I love sugar free jam).
Anesthesia
Once I arrived at the hospital I headed to the OR to find my anesthesia resident for the morning.  She was super nice and explained tons of things to me before the surgery began.  I helped her set up the IV bags, get the drugs into syringes, etc.  That stuff sounds so easy but when you've never done it before and you don't want to mess up, you look like a complete doofus.
I mean, how hard is it to take some tubing out of a bag and hook it up to the IV bag?  So simple!  But I would HATE to be the med student who messed things up so I ask a million questions before I unwrap anything or stick anything into any holes.  (Shakes head in shame) sometimes it really sucks to be a med student- I think all the nurses thought I was a moron.
Another shameful med student moment came when I went in search of someone who needed an IV started.  We have to put in one IV during this rotation and have it signed off on our stupid cards.  So I immediately found a kind nurse who helped me find a kind patient who let me stick her arm.
The whole experience of being the medical student is wonderful, but sometimes so humbling.  I had to ask this poor woman if I could put in her IV and you know she wanted to say no.  I mean, who wants the student sticking them with a needle?  But we have to learn!  Bless this sweet patient for letting me do it to her.  Luckily she had perfect veins and I got the IV in no problem.  Nevertheless, it was a humbling experience.
Later in the morning I got to intubate for the first time!!  Here is a video showing what I did:
[youtube.com=http://www.youtube.com/watch?v=CrLJwwSnUws]
Lunch
After my eventful morning it was time for lunch!! I had a chicken sausage, green beans, and a "pizza" made out of a piece of Ezekiel bread with cottage cheese and marinara sauce.  It was super delicious 🙂
Study Time!
I spent my afternoon at Starbucks studying away.  I made a deal with myself that if I got through 3 cases I could go home and watch the Bachelor while running on the treadmill.
It was a perfect deal- enough to motivate me to get studying done, and a healthy reward!
Half way through studying I had a Designer Whey protein bar as a snack.
Workout
As promised, I watched the Bachelor and spent a nice 50 minutes on my treadmill.  Some walking at the beginning and end with a nice jog in the middle for 4 miles.  Perfect!
Has anyone else seen this Budweiser commercial with the horse?  I seriously started crying at the end.  No joke.  I'm not even embarrassed- it was the sweetest commercial ever!!
Dinner
Sometimes I get into moods where I really crave 'Italian' flavors.  All I want is pizza and pasta with lots of sauce and cheese.  Generally, I get through these moods by adding marinara sauce to all my food.  For lunch I made that makeshift "pizza" but I still wanted more marinara sauce at dinner time!  So I sautéed up some broccoli slaw and portobella mushrooms.  I then added skim ricotta cheese, marinara sauce, and 1 babybell cheese.  It doesn't look beautiful… but it was AWESOME!  I will make this random mixture again 🙂
The trouble with getting up at 4am is that by 7pm I look like this:
***Unpictured eats from today include a banana and peanut butter snack before my workout.
Questions:  I did a lot of embarrassing things today- so please tell me you do these too:
Do you ever make deals with yourself to study more/workout more/get more done?
Do you cry at certain TV commercials?
Do you make weird food mixtures when you're craving something?